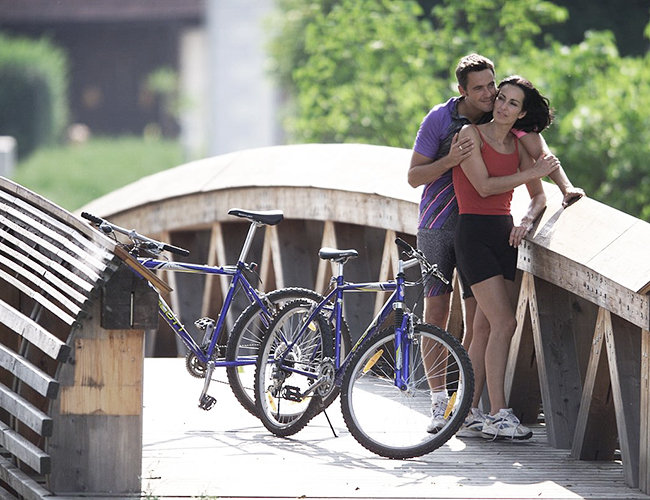 Our thermal oasis is located in the heart of the thermal and volcanic region of Styria in the natural thermal spa town of Bad Blumau, internationally known for the fairytale Hundertwasser thermal baths in Rogner Bad Blumau. Gentle, mild climate, a fantastic landscape and our thermal park with biotope and unique willow flowers invite you to experience nature by bike. Starting point for numerous cycle hikes in the Thermenland Styria. 118 km of well-paved cycling and hiking trails in Bad Blumau, as well as the best entry points into the Thermenradweg and the pleasure cycling tours from Bad Waltersdorf to Radkersburg. Our house is located directly on EuroVelo 9. We would be happy to organize and plan bike tours for you, whether sporty, leisurely or for professional cyclists. Return option is also offered.
Bad Blumau, surrounded by numerous golf courses, offers you the opportunity to experience the untouched nature of Styria. The Styrian coziness, the spa variety and the rustic wine taverns, home-style inns and restaurants are a successful mix that makes every golfer's heart beat faster.
Golf courses in our region:
Bad Waltersdorf golf course
Thermal golf course in Loipersdorf
Thermengolfschaukel Lafnitztal/Stegersbach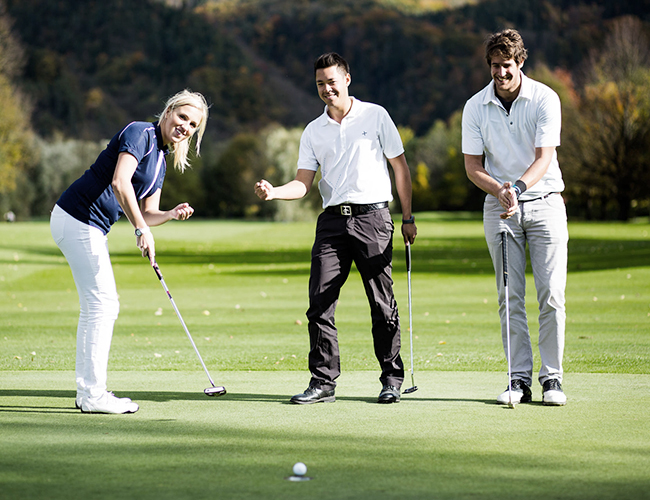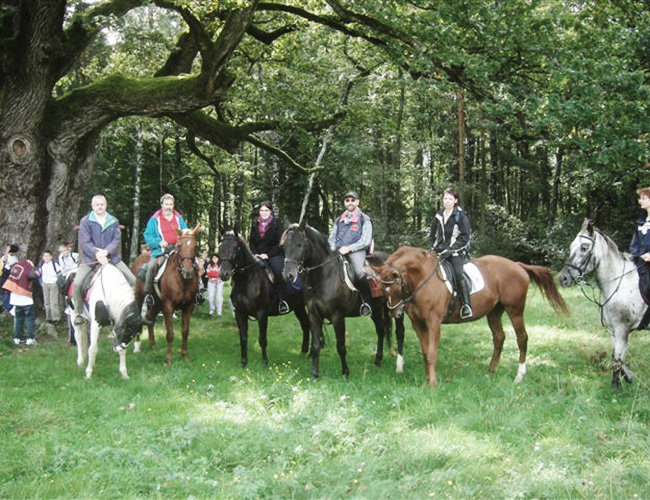 Experience the "Happiness of Earth" on horseback. On well-marked bridle paths through the untouched landscape in the Styrian spa region, you can enjoy the "horse experience" and unbridled freedom in the heart of the Styrian spa region. Enjoy and explore nature on horseback experience. We are the starting point for numerous horse-riding hikes in Thermenland Styria with wonderful bridle paths in and around Bad Blumau. We also offer the best possible entry into the horseshoe tour. We are happy to organize and plan for you with our partner company in the immediate vicinity, riding lessons, lunging lessons, horseback rides and trail rides, whether sporty, leisurely or for riding professionals.
Running enthusiasts will get their money's worth in Bad Blumau! A 7.2 km long route – with route profile, on well-signposted forest and meadow paths are available to joggers. A free-time experience card from the municipality of Bad Blumau is available to our guests free of charge. Information on cycling, hiking and running trails can be found on this map. The special tip: every Monday jogging club in the Rogner thermal baths in Bad Blumau (except public holidays)